Just came home from the workers party at Wermlands. I am very happy because they did give me the award for the Most Valuable Junior Assistant of the Year. Which pretty much means that I've worked a lot. More than anyone.
Related to that - three news. It has been suggested that I only worked so much because no-one liked me and I had no friends. Well, today I told them that wasn't true - I worked here, I said, because people liked me here and I had all my friends here. Almost made them cry there. Besides, it was a night of free alcohol. so it was a lot of booze, and then I went home. have a test in five hours. Good night!!!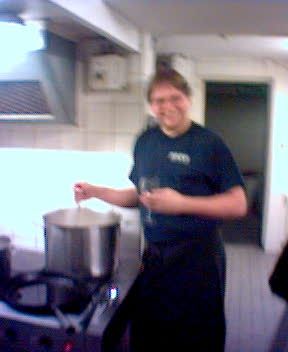 This is a picture of me working as a chef on Wednesday night - I boiled shrimp in coconut milk while boiling butter. Good luck to all!
P.S.
Added at 8.30 am.
And what the hell was I thinking when I typed that up? What are the three news I had??? No idea, honestly. And for the last sentense - I wasn't boiling butter. I was boiling shrimp in coconut milk while drinking wine. And I don't know where the butter came from. Must me a Freudian slip. :)