So I have made it to the hospital today and after some complications was even allowed to pay 100 USD to get a small paper will penicillin and renixin prescription on it. So now I will eat a lot of pills every day and get healthy soon.
Although I must admit - the healing is going to be tought: I am not allowed to drink while I take these pills!
15 days without any booze! Maybe I can talk the doctor into allowing me to have a little... We'll see...
For now: this is going to be my breakfast and dinner for the next two weeks. I may get some real food during the day...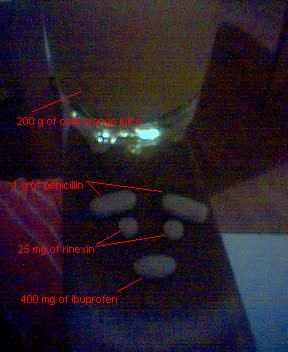 Must survive... Must survive...