People ask me whether I watch the Olympics. I tell them that my TV is broken. They don't believe me. People think that a TV is something one can't break. That we forgot to plug it in or something. God damn it! It is broken! Beyond repair broken. Watch: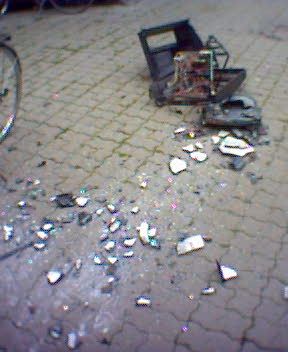 No jokes - this really
is
our TV. That's my olympic for you.
P.S.
Actually, maybe it could have been repaired a while back. But yesterday my corridormates figured that a broken TV was no fun and that they need it enterntain them somehow. So went outside and played "Hot Potato" (Горячий мяч)with it. Clearly, someone failed to catch it...
I have wonderful neighbours! :)
P.P.S. [Added later]
I just found out that the story told above is false. Actually, they decided to play a game "Who can toss a TV farther". So the guy who was going to try first took it to the second floor balcony (he was too drunk to go higher) and tossed it off. Seeing the result they decided that that guy won and there is no point in trying further.